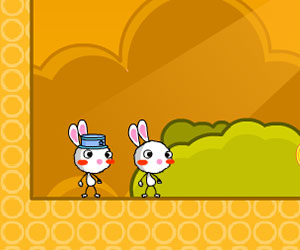 Baby Rabbit Journey Description:
Our small and cute bunnies wants to go back to their home, but they have some difficulties. Will you help them about these difficulties? If your answer is "Yes!" hit the "PLAY" button and go to the menu. The cute litte rabbit is on journey collecting carrots and coins again. It will have to travel though the forest,ice land and fire land to collect enought carrots and coins that it needs to bring home. However, it is very dangerous on these lands where there are full monsters and traps that can kill the rabbit.Help the rabbit across all these place and bring home with full of carrots and coins.

Game Instructions:
Your aim in the game is, as we have told earlier, to help the bunnies reach home. There is both one and two player versions for this game. For one player version press "SINGLE MODE", for two player version press "DOUBLE MODE" button and choose the level. The controls for the game are as follows:

1st PLAYER:
Movement: "A,D"
Duck: "S"
Attack: "J"
Jump: "K"

2nd PLAYER:
Movement: "LEFT, RIGHT ARROW"
Duck: "DOWN ARROW"
Attack: "2"
Jump: "3"

You need to collect all the carrots to pass the level. If you press Jump key twice, you can jump higher. Be careful to lava, thorns and bugs. Good luck.


Just Played