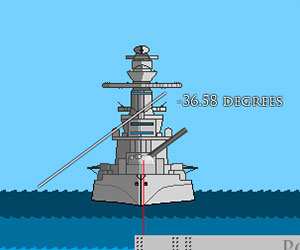 Battle Ship Strikes Description:
Conquer the oceans with this battleship game. Defeat either an AI or a co-player with your ship to ship guns!The enemy ships came close and the war is too soon. The missiles will start fluttering on the horizon. Would you like to be included in this adventure? In the game, your goal is to beat the enemy ship sink and win the war.You can watch the damage of your ship and enemies' ship with the bar on the top of the screen. Let's see who is the winner of this challenging struggle. Good luck.

Game Instructions:
This game is played by mouse only.After game loads, access the menu with the button "PLAY GAME" at the bottom-right corner. Click on "SINGLE PLAYER" for a single game, "DOUBLE PLAYER" for a two-player game. Than choose the map and level. Game is played with "MOUSE". Click left on the screen and setup the shooting power by pulling it back.


Just Played