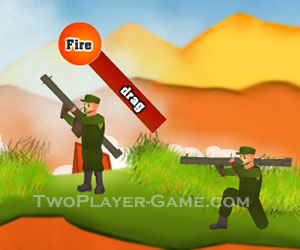 Bazooka Battle Description:
Launchyour missiles with the correct trajectory to hit the opposing military force.

Game Instructions:
This game is played with mouse only.Choose "2 Player" section to play this game with your friend. Game has 2 different soldiers. You're trying to destryoy enemy forces with your bazooka. Game is played with "Mouse". Fire your Bazooka after you made direction and speed adjustment with your mouse. You can also choose bullet type from right top of the screen. We hope you will have fun.


Just Played