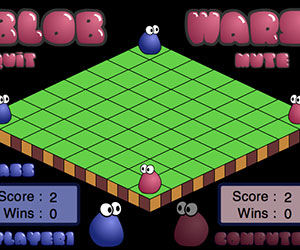 Blob Wars Description:
A blob war game. You must take control of the war board by attacking with your blobs againist to your opponent's. Your target is converting your opponent's blobs into your own. Youcan spawn a blob into an adjacent space or you can jump into an open space one square away. Select a blob on your team by clicking it with the mouse. Once selected your blob will be highlighted and the possible moves you may take will be shown with darkened green tiles. Click on a highlighted space to complete your move.Enjoy!

Game Instructions:
You can play both 1 Player or 2 Players mod. Game is played by Mouse.


Just Played