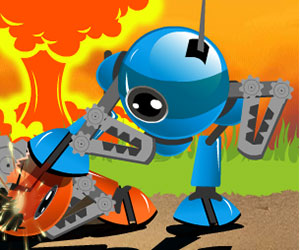 Bomber Description:
Here is a different version of classical bomberman game.In this game the aim is still catching and destroying your enemies.When the bombs got burst walls are destroyed and there can be appeared some surprises.These bonuses sometiems give you extra energy or sometimes take your energy.Box10 Bomber.Be the last robot standing in Box10 Bomber! Collect the bonuses and use them wisely to help you!

Game Instructions:
To play this game with 2 players click "Play" and choose "2 Player" section.First player uses "Arrow Keys" and "Shift" key and second player uses "WASD" keys and "E" key to play.We wish you will have fun.
Player 1:Arrow Keys - Move.Shift Key - Bomb.
Player 2:W, A, S, D - Move.E - Bomb.


Just Played