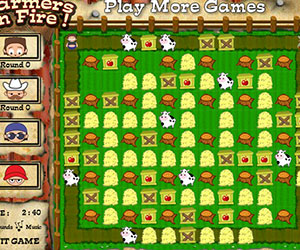 Farmers On Fire Description:
Here is popular bomberman game's farmer version with you. You're in a natural farm instead of usual robot bombers and advanced platforms. Join this funny adventure with cows, straws and more. All rules and processes are same. Farmers On Fire is a rural version of the classic Bomberman game! Run through mazes, eliminate the CPU enemy or a human opponent.

Game Instructions:
After game has been loaded use "Continue" and "Play" buttons and select game type. After you assign player number, game will start. Player 1 uses "Arrow Keys" and "Space" key, Player 2 uses "W,A,S,D" keys and "Ctrl" key to play.


Just Played