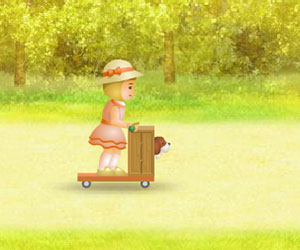 Freewheeling Friends Description:
Takeyour trusty pet companion on a speedy stroll through fields, beaches, and forests!Freewheeling friends are going for a funny drive in a mountain way which's full of obstacles. The objective of the game is arriving finish point without getting caught by any trouble. After game has been loaded assign player number from menu and choose your characters. Adjust game level and start funny adventure.

Game Instructions:
Arrows keys - Move.WASD keys - Move (Two-player mode only).You'll control first player with "Arrow Keys" and will control second player with "W,A,S,D" keys. You can follow the time from top left, your lifes from top right and your position on the map from center of the screen. Overcome the obstacles and finish the track. Complete the chapters one by one. TwoPlayer-game.com hopes you happy days.


Just Played