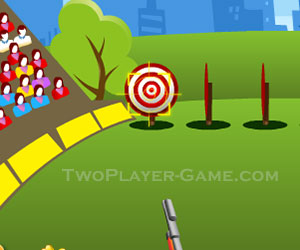 Olympic Games Description:
How do you on shooting and hitting? Is your friend better or you? You can improve yourself about sighting and reflexes and see who is better.You are chosen as a player of 10 meters air rifle. You practised with great effort in the past two years in the hope of winning the championship in the upcoming tournament. Today is the preliminary contest and you can choose to play under easy, medium and hard mode. The audiences are waiting for your performace. Now relax and take a deep breath. Ready? Fire!

Game Instructions:
The game is played with "MOUSE".


Just Played