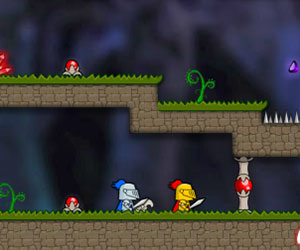 Princess Rescue Description:
ThereWas once a beautiful princess is kidnapped by evil dragon.They imprisoned princess in a cave......King reward the knight who can defeat the dragon and rescued the princess to the National.So player will play two knights embark on the journey of rescue princess!To complete mission of resuce,you need to destory enemies,collect item,reach the exit to into next level! TwoPlayer-game.com hope you will have fun!

Game Instructions:
Player 1:WASD to move. J to attack.
Player 2: Arrow keys to move.1 to attack.


Just Played