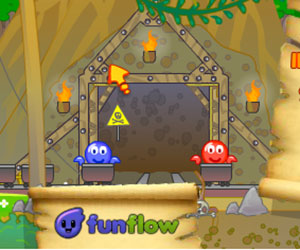 Red & blue balls 3 Description:
Usethe red and blue ball characters to make it through each level as they need each others help. The newest adventures and two new heroes are here for an exciting journey. Game size is a bit big; so you may wait for a while during the game is loading. But we strongly recommed you to be patient for playing this funny game. After game has been loaded use "Play" button to reach presentation screen. You can skip this chapter by using the button existed at right top of the screen. Choose "Start Game" button from menu and click "Start" button from following screen to begin. You can navigate our lovely heroes with "Arrow Keys" and you can make selection between them with "Enter" key. We hope you have fun.

Game Instructions:
Use arrow keys to move.Space bar to switch balls.


Just Played