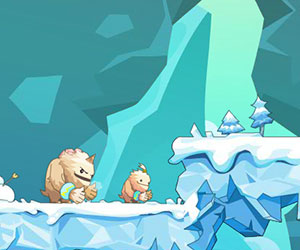 Snow Monsters Description:
This game is for 2 players. Everywhere in the cold Arctic is covered by snow and ice. In such kind of extreme cold weather, many animals are ibernating, but we are strong and brave and come out to play!Looking for food the whole day, we are tired and want to go home, but the road home is not so flat! To return to the warm home, we will make efforts to overcome the challenges to go home safely. Two cute monsters, one small and one big, are stucked in dangerous places in icy mountains and they need to reach the exit.You can control one of the monsters which has individual characteristics and your friend can control the other one. Are you ready to help well-intentioned monsters?

Game Instructions:
After game loads click on the button at the top and select your chapter. Keypad is as follows:
Player 1: A,D to move. W to throw the little snow monster/climb steps. S to down the steps.
Player 2: ←→ to move. ↑ to climb steps. ↓ to use shovels. S to down the steps.


Just Played