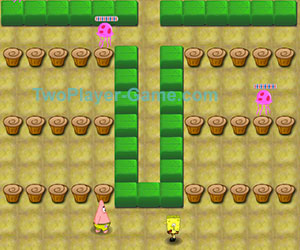 Spongebob Battle Description:
Sponge Bob and Patrick Star team up to fight against monsters. Help them defeat all the evil force and bring back the peace for their world. There are several levels in this game. Defeat all the monsters and bosses in each level in order to advance to the next level.

Game Instructions:
Player 1 - W,A,S,D to move.
Space bar - Shoot.

Player 2 Arrow keys to move.
Number keys 0 - Shoot.


Just Played