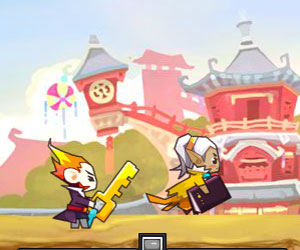 The silk road Description:
the silk road Description: The evil has been attacking the three old nations——China,Persia and Roman, Which fell into chaos. So it made the Silk Road full of danger and risk, which was the key of cultural and economic communication between Asia and Europe. However, on the Silk Road there were companies of merchants coming and going back, bandits aiming to rob property, and the protectors who encouraged goodness and acted bravely in exterminating evils, and all of them made the Silk Road full of vigour. Once upon a time, the protector who held the Key of Hope was born in a small village in China, so the senior priests and magicians acquired it and tried to find hin..But so did the evils which wanted to control the world.The protectors, the priests and the magicians should help the merchants compass the Silk Road safely and slew demons in order to break a new road which was safe for every people. TwoPlayer-game.com hopes you will have fun!

Game Instructions:
Player 1: Arrow Keys - Move. U,I,O,P - Action.
Player 2: W,A,S,D - Move. Numpad 1-4 - Action.


Just Played