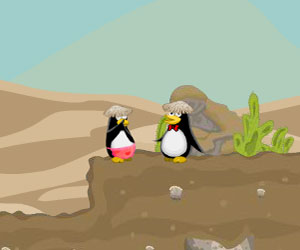 Penguin Couple Adventure Description:
ThePenguin couple are facing terrible threat from the bad polar bears. The bears set the whole antarctic pole into flames of burning forest. It is not liveable anymore. But there's one way - in the faraway magical forest, there was a magic stone with which they can recover the antarctic pole into a land of home and peace. For the survival of the penguin ethnicity, the penguin couple set on a new difficult adventurous trip again.Have Fun!

Game Instructions:
Penguin mom: AD = move; W = jump; S = use tools (when get it). Penguin dad: ←→ = move; ↑ = jump; ↓ = use tools (when get it). Note: one penguin can step on the head of the other to deal with different difficulties.


Just Played